1804 SETTLEMENT AT HOBART TOWN, SULLIVANS COVE
CIVIL ESTABLISHMENT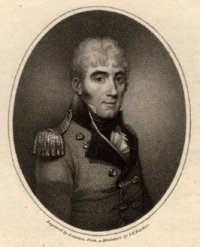 David Collins, by Anthony Cardon, after John Thomas Barber Beaumont (John Thomas Barber) stipple engraving published 1804. NPG 2097. National Portrait Gallery, London
Lieutenant-Colonel David COLLINS, Lieut. Governor
Reverend Robert KNOPWOOD, Chaplain
William l'ANSON, Surgeon
Matthew BOWDEN, Assistant Surgeon
William HOPLEY, Assistant Surgeon
Samuel LIGHTFOOT, (former Settler) Hospital Assistant
Leonard FOSBOOK, Deputy Commissioner
George Prideaux HARRIS, Deputy Surveyor
Adularius W.H. HUMPHRIES, Mineralogist
William COLLINS, (former Settler) Harbour Master
Thomas CLARK, Superintendant
William PATTERSON, Superintendant
William NICHOLLS, (former Settler) Superintendant
John Jubal SUTTON, (former Marine) Superintendant
John INGLE, (former settler) Overseer
Francis SHIPMAN, (former Convict) Clark/Storekeeper
Henry HACKING, Pilot
WIVES AND CHILDREN OF CIVIL OFFICERS
Judith HOPLEY (wife of William Hopley)

Julia HOPLEY (child of " )

Frances NICHOLLS (wife of William Nicholls)

William Melmer NICHOLLS (child of " )
Maria NICHOLLS ( child of " )
John NICHOLLS (child of " )

Elizabeth PATTERSON (wife of William Patterson)

Janet PATTERSON (child of " )
Frederick PATTERSON (child of " )
William PATTERSON (child of " )

Elizabeth INGLE (child of John Ingle and Rebecca Hobbs)
OFFICERS
1st Lieutenant William SLADDEN
1st Lieutenant James Michael JOHNSON
2nd Lieutenant Edward LORD
SERGEANTS
Robert ALOMES
James (John) McCAULEY
Richard SARGENT
Samuel THORNE
CORPORALS
John BELLINGHAM
Thomas COLE
William DAVIS
William GANGELL
John Jubal SUTTON
DRUMMERS
John BRIN (BROWN)
William HUGHES
PRIVATES
Robert ANDREWS
William BEAN
John BLACKLAWS (BLACKLOW)
William BOWDEN
Richard BUCKINGHAM
Patrick CARROL
William CATFORD
George CARLEY (KEARLEY)
James CLYSSOLD (CLISSOLD)
John DOWNS (DOWNES)
Robert EVANS
John GERMAN (GERMAIN)
Thomas GREEN
William JOHNSON
John KELAN (KEELAN)
Thomas PENNINGTON
William PERRY
James PRICE

Pryce PRITCHARD
James RAY
Richard ROWELL
George SMITH
James SPOONER
Job STOKES
Samuel SUDRICK
John TAYLOR
James TAYLOR
Thomas TERRETT
John TOBLEY (TOPLEY)
Richard WALTON
Edward WESTWARD (WESTWOOD)
James WHALEY
Samuel WIGGINS
Joseph WOOLEY
Allan YOUNG
WIVES AND CHILDREN OF MARINES
Elizabeth BEAN wife
Mary CARLEY (KEARLEY) wife
Mary McCAULEY wife
Maria SARGENT wife
Susannah SLADDEN wife
Sarah SPOONER wife
Ann THORNE wife
William James Hobart THORNE child
Susannah WIGGINS wife
Thomas WIGGINS child
SETTLERS
John BLINKWORTH
Elizabeth BLINKWORTH wife, from Port Jackson

Robert BLINKWORTH child, from Port Jackson
J E BLINKWORTH child

Sophia CHILVERS
William COCKRILL
Ann (Elizabeth) COCKERELL wife

Arabella COCKERELL child
William COCKERELL child
Ann COCKERELL child

William COLLINS
John DACRES
John GRAVIE
Edward HAMILTON
Henry HAYES - went from Port Phillip to Port Jackson to bring his wife Mary (a convict) to VDL, arrived 'Pilgrim' March 1804.
Thomas HAYES
Elizabeth HAYES wife

Thomas HAYES child
William HAYES child

Jane HOBBS mother-in-law of Surgeon W HOPLEY

Ann Jane HOBBS child
Charity HOBBS child
James HOBBS child [Additional information]
Jane HOBBS child
Rebecca HOBBS child

Thomas ISSELL
Thomas LITTLEFIELD
Robert LITTLEJOHN
Edward MILLAR
Elizabeth MILLAR wife
Richard PITT

Salome PITT child
Frances PITT child
Phillip PITT child

Thomas PRESTON
Ann SKILHORNE widow of John SKILHORNE
MALE CONVICTS
James ALEXANDER
Uriah ALLENDER (ATTENDER)
John ANDREWS
Daniel ANKERS (ANCHOR)
William APPLETON
Robert ARMSTRONG
Thomas ARNOTT
George ASHTON
Joseph ASHTON (APSDEN)
William ATKINSSON
John ATTENBURROW
James AUSTIN
John AVERY (EVERY)
George BAGLEY (BAYLEY)
James BALANCE
William BANNISTER (RUSSELL)
Francis BARNES
Robert BARWISE
William BEAN (BEANS)
John BREADSMORE
David, BELTON
John BIRCHALL (BIRCHELL)
Benjamin, BLACKFORD
John, BLACKMORE
James BLAKE
John BOLTON
John BOOTHMAN
William BOWERS
Thomas BOWMAN
Joseph (Thomas) BRADLEY
Thomas BRAY
George (Thomas) BREWER
William BRIANT (BRYANT)
Benjamin BRISCO
Thomas BROMLEY
Charles BROWN
James BROWN
John BROWN
Richard BROWN
Thomas BROWN
William BROWN
James (John) BYRNE
Archibald CAMPBELL
Adam CARMICHAEL
Thomas (James) CARRETT
Charles CLARK (E)
John (Derby) CLARKE
John (London) CLARKE
William CORTSWORTH (COALSWORTH)
Francis COBB
John COLE
Arthur CONNELLY
William CONSTABLE
Robert COOPER
William COOPER
William CORMACK (McCORMACK)
James COWARD
Michael CRENER (McGUIRE)
Thomas CROFT
Christian CRONBURY (CROENBURY)
Samuel (John) CROSS
Daniel CROWLEY (CRAWLEY)
John CRUCE (CRUSE)
John CRUTE
John CURTIS
James DAVEY
Thomas DAVIES (DAVIS)
James DAVIS
John DAVIS
John DAWSON
Edward DEACON
John DINGHAM (DENHAM)
Joseph DIXON (DICKSON)
William DIXON (DIXION)
James DOWSING (DOWSON)
Michael DOYLE
William DREW
James DUFF (DUFFY)
Patrick DUFF (DUFFY)
Richard DUKES
John EARLE (EARLY)
John EDWARDS
Joseph EDWARDS
Jeremiah EMBLIN
Charles EVERITT (EVERARD)
John EVERITT
John FAGG
James FAWCETT
John FAULKINER (FAWKNER)
John Benjamin FELL
Joseph FENANDEZ
Thomas FITZGERALD
William FLETCHER
Christopher FORSHA

John GADSBY
John GAIN (GAINES)
Richard GARRETT
Samuel GRAY
John (Robert) GREEN (LAWRENCE)
Thomas GREEN
James (John) GROVE (GROVES)
Richard GLOVER
Edward GUEST
Samuel GUNN
John GWYNN
John HALL
John HANGAN
James HARFIELD
Finch HARRISON
Robert (James) HAY (COLVEN)
Thomas HAYWOOD (HAYWARD)
Thomas HEATH
Joseph HEDFORD
Valentine HENLEY (HANLEY)
John HINES (HAYNES)
John HOBERMAN (OBERMAN)
Robert HOLDSHAW (HOLHAM/KNAPP)
Alexander HOPKINS
William HORNE
John HUNTER
John ISAACS
Samuel (Solomon) JACOB(S)
William JACOBS
Edward JARRETT
John JEMMISON
James JOHNSON
Joseph JOHNSON
John JOHNSON (LAWRENCE)
George JONES
John JONES (HUGHES)
Thomas JONES
William JONES
William KEEP
Owen KEGHO (KEOGH)
Richard KEMP
Dennis KENNEDY
James KENNEDY
Robert KENNEDY
Richard KIDMAN
George (James) KING
James LANGLEY
Michael LAWLER (LALOR)
John LAWRENCE (LAURENCE)
Robert LAWRENCE (LAURENCE)
Henry LAZARUS (ELLIS)
John (William) LEACH
William LEWIS
James, LORD
John LORING
Anthony LOWE
Sylvester LUSH
John MAGGOTT
Arthur MAHANEY (MAHONEY)
John MAMBY (MANLEY)
William MANN
John MANNING
William (Michael) MANSFEILD
John MARGETT(S)
William MARMON
William MARSH (MARCH)
George MARSHALL
Patrick McCARTY (McCARTHY)
Daniel McMENAN (McALLORAN)
John, MELLOWS
Richard MERED (MERIDON/MEDDOW)
Joseph MEYERS (MYER)
Michael MICHAEL (MICHAELS)
John MILLS (POLLARD)
John MILES
William MOORE (STONE)
Augustus MORRIS
George Munday (MONDAY)
Matthew NELSON
John NEWLAND (NOMLAND)
James (Henry) NORTH
John P NOWLAND (KNOWLAND)
William ORAM
John PEARSALL
William PEEL (PEALE)
Joseph PENDALL (PENDALE)
Joseph PENDRIDGE
Thomas PETERS
George PIPPS
Nicholas PIROELLE (PIVEOLLE)
Henry (John) PIZZY (PAZLEY)
Patrick PLUNKETT
Thomas (William) POOLE
William POPE
Phillip PORTER

John POTASKIE (POTASKY)
Joseph POWELL
Matthew POWER
John PRIESTEDGE (PRESDIDGE)
John PRIESTEDGE (PRESDIDGE)
James PRICE
Thomas QUIN (QUINN)
Joseph RAPHEL (RAPHELL)
George REEVES
John REYNOLDS
Henry RICE
Joseph RICHARDS
William RICHARDSON
Ambrose RIDOUT (RIDCOURT)
James RILEY (RYLEY)
Thomas RILEY (RYLEY)
James ROBERTS
William ROBERTS
William ROBERTS
William ROBERTS
Henry ROBERTSON (ROBINSON)
John ROGERS
John RONALDSON (RAWLINSON)
James ROTCHFORD (ROCKFORT)
Thomas RUSHTON
Joseph (John) SADLER (ROSE)
Thomas SALMON
George SCHOLER
John SCHOFIELD
John SCOURS (SCOVES)
John SCHULLER (SCULLAR)
William SHEBBARD
Frances SHIPMAN
Charles Shore (SHAW)
Charles SMITH
Edward SMITH (BIDDLE)
John SMITH
Oliver SMITH
Thomas (Warwick) SMITH
Thomas SMITH
William SMITH
William SMITH
William SMITH
Jonathon SPENCER (SMITH)
William STEEL
Michael STEWART (SEYMOUR)
Philip STIKLAND (STRICKLAND)
William Thomas STOCKER
Thomas STOKES
Thomas STOREY
John TAGG
Thomas TARRALL (TARRETT)
James TAYLOR
Joshua THATCHER (FLETCHER)
William THOMAS
Thomas TIT (TITT)
Thomas TOMBS
Samuel TOMLINS
John TOUCHFIELD
Thomas TRAHERNE (FLEEHORNE)
William TRIM
Sanders Van STRATTEN (STARTON)
William VASEY
John WADE (WOOD)
David WAKEFIELD
Richard WALL
Robert WALSH
James WALTHAM
Robert WARING
George (Samuel) WARRINGER
John WATERSON (WATERS)
Richard WEBB
George WHEELER
Andrew WHITWHEAD
John WHITEHEAD
John WILKINSON
John WILLIAMS
John WILLIAMS
John WILLIAMS
Thomas WILLIAMS
Thomas WILLIAMS
Thomas WILLIAMS (LONG)
Thomas WILLIAMS
William WILLIAMS
William WILLIAMS
John WILLIS
Edward WISDOM
Edward WOOLLEY
William WOOLLEY
James WRIGHT
WIVES AND CHILDREN OF CONVICTS
Frances (Fanny) ANKERS
Elizabeth BELTON
Sarah CONNELLY
Mary CROFT
Elizabeth EDWARDS
Sarah FAULKNER (FAWKNER)

Elizabeth FAULKNER (FAWKNER) child
John LAULKNER (FAWKNER, child

Hannah GARRETT (nee HARVEY) - de-facto wife of Richard Garrett, married at Port Phillip
Susannah GROVE (GROVES)

Daniel GROVE (GROVES) child
Child GUNN - child of Samuel Gunn.

Jane HEELS, widow of John Heels
Sarah MANBY
Ann PETERS
Sarah PIROELLE
Catherine POTASKI
Hannah POWER
Isabella RILEY
Mary WHITEHEAD, de-facto of Andrew Whitehead.
TRANSIENTS EN ROUTE TO PORT JACKSON AND BEYOND
William PARISH

John HARTLEY

Mrs HARTLE

Child HARTLEY

Joseph MOULDING

J W PORTER

James WILDE

James MAHON

James SWINNEY

George CLARK

James MILNE

Henry YOUNG.