Events of the Association
Meetings are held on the first Tuesday in the month, February to December, at the Moonah Community Centre, 7 Gormanston Road, Moonah commencing at 10.00am.
Guest speakers at the monthly meetings cover a wide variety of topics relative to early Tasmanian history, its people, life and times and development. Some recent topics have included Photographing Tombstones, Life & Death in Old Hobart Town, Orphan School, the Female Factories and Governor Sir John Franklin, William Bligh, Children of Convict Parents.
From time to time member excursions visit historic sites and buildings.
Upcoming Events
At the Association Meeting scheduled for Tuesday 6 June 2023, Jane Wilson talks of "Getting to know my ancestors from Dundee and Brighton". The general outline of the family was well known but research trips in 2018-19 filled some curious gaps.
We look forward to seeing you at the meeting. Morning tea will be served.
Headlam Family Bicentennial Celebration 2020
Commencing on Friday 26th November 2021 to Sunday 28th November 2021 based in Launceston and Campbell Town, Tasmania.
On 27th November 1820 John and Ann Headlam and their family, of Durham England, arrived in what then was Van Diemen's Land. Some 195 years later, to the day, a committee was formed to begin planning for this Headlam Celebration (Reunion). THe culmination of the committee's work is the family reunion where it is hoped many of the descendants of John and Ann Headlam will gather for a memorable weekend.
For more information and to register your attendance, go to the website www.headlam.com.au
<< Previous 1 2 3 4 5 6 7 8 9 10 Next >>
Each year ...
The next Annual Floral Tribute will be conducted at 11.00 AM Tuesday, 20th February 2024.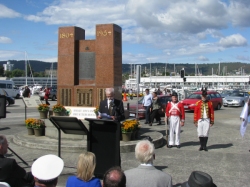 Each year representatives from the original inhabitants, government, councils, Mission to Seamen, Historical Societies and our members and friends attend the tribute at the Hunter Street monument to commemorate our First and Early settlers.
The Hobart Veterans Brass Band will be in attendance so arrive early to enjoy the music.
A casual morning tea or lunch is later enjoyed at a local café organised on the day.